Fouzia Zafar, is a Scottish based  artist working in a diversity of media, including paint, video and print. She completed her MA in Fine Art with distinction at the City and Guilds of London Art School in 2013. Upon graduating she received the Gwen May Student Award, from the Royal Society of Painter-Printmakers, the Curwen Studio Award and was shortlisted for the Clifford Chance Postgraduate Printmaking Award. She was voted Printmakers Printer at Cumbria Printfest 2015.  In 2018 she was elected as a member of the Royal Society of Painter-Printmakers.
She has exhibited across the UK and abroad including the Royal Scottish Academy and the Royal Academy, London. Her work is held in private collections, the Victoria and Albert Museum, Ashmolean Museum, Scarborough Gallery and the Glasgow Print Studio Archive
Fouzia currently lives and works in Glasgow, she works from her studio at home and at the Glasgow Print Studio. Fouzia has also taught Design and Technology at Secondary School level for 10 years, and also holds a BA (Hons) degree in Fashion Studies from London College of Fashion and Bachelor of Architecture form the Mackintosh School of Architecture all of which inform her work now.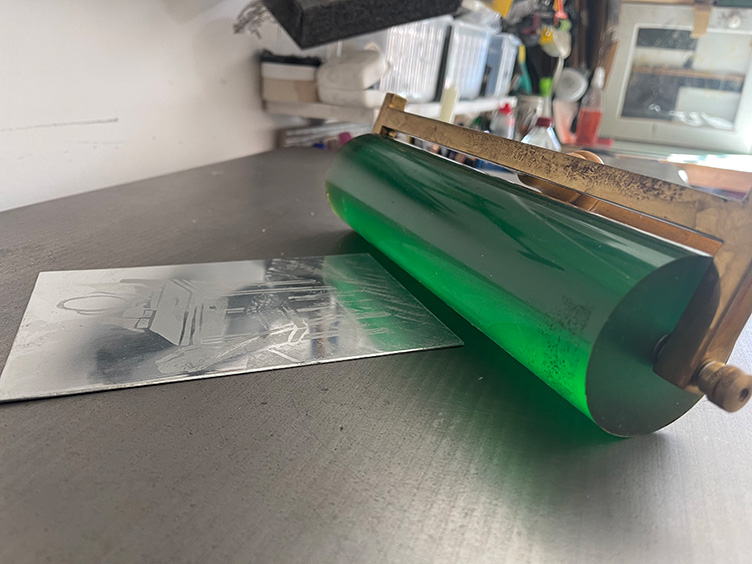 Fouzia describes play as a key concept to describe her work as it encompasses the various dimensions of my practice from materials, methods and processes to the themes that Fouzia often explores: the strangeness of memory, family histories, migration and absence. Play encompasses repeatedly finding, composing and constructing new tools and processes to explore objects' history, surfaces, and qualities, whilst also constructing new narratives.
Photography and collage are integral intermediate stages to her practice as they allow her to construct and deconstruct domestic and public interiors though shape, pattern and process. Each stage invites the element of chance to enter the practice but also provides the opportunity to both push each medium but also embrace what it offers. Fouzia's work flickers between reality and fiction and use of pictorial language and processes. Figureless, her images have a presence of someone/ something that is now absent and a playful nostalgic noise unfolds.